Learn More About Biodiesel Vehicles:
Search this site!
Biodiesel vehicles are DIESEL vehicles. Any vehicle with a diesel engine can run on biodiesel, however some will run it better than others.
Manufacturers of 2007 and newer diesel vehicles are adding a "post-combustion" fuel burst into the the cylinder in order to comply with emission standards. This does not work well with biodiesel. Read this forum post to learn more about problems with newer biodiesel vehicles. (opens in new window).

Check out the sections below to find a form of transportation that has proven to run well with biodiesel. These biodiesel vehicles have had great reviews from people who have driven them many miles and use quality biodiesel. Many of them have experienced the expected weakened fuel lines and seals (can be replaced with more durable lines), and clogged filters (biodiesel will clean out the petro diesel gunk).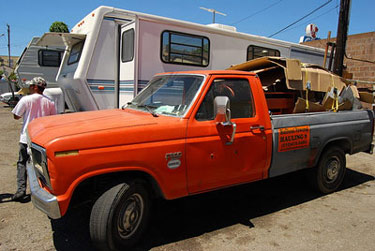 Diesel Sedans:
• For biodiesel cars there is the VW Jetta, Passat TDI, and Beetle. Mercedes offers the 300TDI, and the older model engines are extremely tolerant. They are great for homemade biodiesel that may not be up to ASTM standards.

Photo courtesy of Nicolás Boullosa



Looking for a Great Diesel truck?
The Ford Powerstroke, Chevy Duramax, and Dodge Cummins have all had great success operating on biodiesel up until the 2007 changes mentioned earlier. Owners have reported driving them tens of thousands of miles on B100 with no fuel relate issues.
• Dodge now approves use of B20 in their Cummins engines, although the cummins is a particularly popular engine in which to run B100 due to its longevity and high tolerances.
Datsun's have great gas mileage and lots of room under the hood in case you want to add fuel line heaters. They are harder to find because they were only manufactured from 1982-1985.
The 1984 Isuzu Diesel Pickup has also proven to run well with biodiesel.


Diesel Vans:
The 2005 Dodge Sprinter runs quite well with biodiesel. One man has driven his Sprinter on B99 for 142,000 miles! Another man has driven his Toyota TownAce on home made biodiesel for 6 years.


Diesel SUV's:
1983 Land Cruiser w/Cummins 6AT diesel, 2001 Excursion


Are There Motorcycle Biodiesel Vehicles?
Well, there aren't a lot of diesel cycles... but keep your eyes peeled for these:
• Royal Enfield used to produce diesel-powered motorbikes - you may be able to find a used one.
• The M1030M1 was designed for military use. It was based off the Kawasaki KLR650.
• And btw, a diesel Harley won the Green Prix MPG award!


Diesel boats:
• Earthrace - the biodiesel vehicle of the seas, in June 2008 broke the world record for circling the earth.


Conversion?
• Diesel engines and diesel backup generators (opens in a new window) do not need to be converted to run on biodiesel.
• The conversion kits you can buy are kits that will heat the fuel line. Biodiesel has a higher gel point than petrol diesel, but a fuel line heater is not the only way to solve this problem. You can blend diesel in with the biodiesel to give it a higher gel point.



Conclusion:
There is not a lot to choose from when looking for biodiesel vehicles. With the increasing interest and knowledge of biodiesel, though, there are bound to be many more diesel vehicles popping up in the coming years. It is encouraging as more and more vehicle manufacturers approve of the use of biodiesel in their vehicles.


Do You Use Biodiesel?
Are you proudly powered by biodiesel? Brag about it!
Check Out Other Visitors' Diesel Vehicles
Click on a links below to read the full posts contributed by other visitors to this page...

Seat Toledo Tdi, loves veggie Not rated yet
Been driving Seat Toledo Tdi, T reg, year 2000. Been running on WVO for approx 9 months. Now showing 170,000 miles on the clock. When I bought the car …
Veggie Power Not rated yet
I started making B100 5 years ago and have put about 95,000 miles on my 99 Dodge Pickup since then. I put 50% diesel in the tank for the winter when it …
Return from 'Biodiesel Vehicles' to 'Biodiesel Homepage'