WVO Oil Collection for Biodiesel
Search this site!
Oil collection is made easier when you travel prepared. There are certain supplies that will make your trip easier and more effective. Below is a list of those helpful supplies, some examples of good oil sources, how to ask permission to take it, how to check the quality, and how to collect and transport it.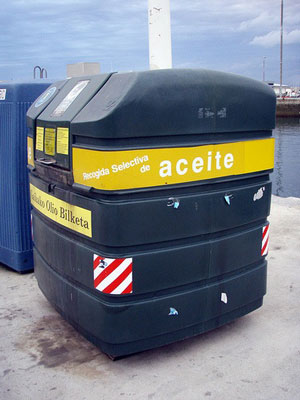 First, Find an Oil Source:
Pick a location with many potential sources in close proximity. Plan a route to hit them all.
Here are some ideas for good oil collection sources – school cafeteria's, pizza joints, donut shops, hospitals, bakeries, convenience stores, and oriental restaurants.
Fast-food restaurants usually have very poor quality oil.
Photo courtesy of Daniel Lobo
The Second Step of Oil Collection - Obtain Permission:
Call and ask to talk to the owner or store manager. Make your phone call short and direct to show you value their time. Simply ask if they will give you permission to collect their WVO. If yes, ask when it would be a good time to stop by to collect a sample to test. You may need to reassure them you will not make a mess, so you should have your method of collection planned out.
*You will want to make sure they are using vegetable oil instead of liquid shortening or animal fats. Vegetable oil is more likely to be trouble free when making biodiesel.
If you stop in to ask, choose a time when they are not busy. Dress casually, but not grimy. Ask if there are any rules you will need to comply with.


Third, Test the Oil For Suitability:
When you go out hunting for an oil source take many small containers to collect 100-200 ml of oil in (see below for a list of supplies). When you collect the sample of oil, be sure to mark the container with the name and location.
When you get home you will want to check the water content to make sure it is low. Remember, if there is any water present you will have to remove it.

You will also need to titrate your samples of oil . A titration number up to 3 ml is good quality WVO!


Supplies for Oil Collection:
• Small containers for collecting 100-200 ml of oil (such as cottage cheese or yogurt containers) at each potential oil source.
• Sharpie for labeling the containers
• Box for setting all the containers in
• Heavy duty pump or a scoop
• 55-gallon drum for collecting and transporting oil in (unless they put it back in it's original containers)


Fourth, Collect and Transport the Oil:
As far as transporting oil to another container, there are two routes you could go – pump or scoop. If you choose to pump, I would highly recommend building a Super Sucker, which will suck up even thick oil, is very fast, and can suck continuously for a long time. If you decide to scoop, you can fashion one out of an old 1-gallon milk jug by cutting off the top. Keep in mind, this is much less professional looking than using a Super Sucker and could make a mess.
You may ask if they are willing to return the oil to its original container... this may be impossible it they are moving hot oil. Or, you may need to supply a covered collection container of your own. A 55-gallon drum would work well. Be sure to mark it with your name and contact information!
Be courteous not to pump WVO out of any container that is currently on the premise because once it is put in the container it is property of the container's owner.
Prove yourself to be reliable and professional by removing the oil on a regular basis.
Oil that is rock hard in the winter could make oil collection difficult.
If it is unable to be pumped, you could ask them to put it back in the original containers so you can still lift it, or you could swap the container for a new one.
Keep in mind, WVO weighs about 8 pounds per gallon, so if you will be lifting the container yourself it adds up fast!
Make sure to chain down your oil and pump before you pull out!



Have a Great Story About Collecting WVO?
Do you have a humorous story about collecting oil, or a unique method? Share it!
Return from 'Oil Collection' to 'Making Biodiesel Fuel'